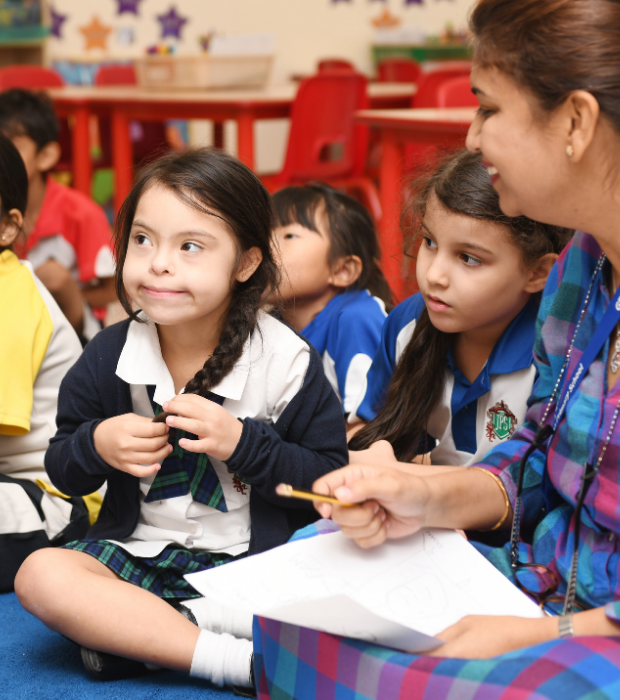 Inclusion
JPS Connect is the name of our Inclusion department. We believe that all children, regardless of need, are entitled to be included at school and have equal access to the broad and balanced social and academic learning opportunities that JPS offers.
We offer a service to connect children who require additional support for learning in a range of different areas. We offer wellbeing support from our highly-trained school counsellors and inclusion support for learning from our support teachers and Learning Support Assistants (LSA). Specialist teachers provide one-to-one mathematics and literacy support. English Language Learning support for those new to English is provided by our ELL coordinator and boosted with the Lexia Core 5 programme. We offer The Listening Program ® to develop students' attention and provide Enrichment opportunities for Gifted and Talented students through our membership of the Dubai Enrichment League.
We also connect learners to outside specialist services, provided for within school, such as Speech and Language, Occupational Therapy and Educational Psychologist assessments services. By accessing the services that JPS Connect can offer, we serve as a support service for children and their parents.
At JPS Connect, we offer a range of learning interventions for students with different levels of additional support needs as part of our school standard offer.
LSA support
JPS Connect is able to facilitate one-to-one or one-to-two, parent-funded Learning Support Assistants (LSA) for students with additional needs. Children requiring an LSA have an Individual Education Plan (IEP) that is written as part of 'Team Around the Child' meetings involving the Head of Inclusion, class teacher, parents, outside specialists and the children themselves. IEPs are reviewed regularly throughout the academic year. Children with LSAs are supported to access unique individual learning targets that are linked to the National Curriculum in England or to alternative curriculums, where appropriate. During the academic year 2019-2020, children with LSA-based IEPs were able to achieve up to 95% of their individual targets.
Our LSAs take part in an in-house training programme and are directly lead by the Head of Inclusion alongside the class teachers. LSAs have access to frequent in-house training opportunities and many are involved in further specialist study.
Specialist Literacy and Numeracy Provision
At JPS Connect, we believe every child has the ability to succeed and reach their potential. Additional to the standard school offer, we can provide identified students with a bespoke one-to-one literacy or numeracy programme. Children with barriers to learning in these subjects, or with a diagnosis of dyslexia or dyscalculia, benefit hugely from the additional support. Lessons, delivered by qualified teachers, are carried out on a weekly basis and last forty minutes each. Each child receives a Termly Target Plan, detailing SMART targets, for them to achieve and regular updates are given to parents. Literacy lessons are designed following a flexible mix of Orton–Gillingham and Turner-Bodien approaches to phonics teaching. Numeracy lessons teach a mathematics curriculum designed to support students with specific number difficulties, based on the work of Steve Chinn. Our lessons provide students with a multi–sensory, bite-sized approach to learning and empower children with strategies to take back to the classroom.
In the 2019-2020 academic year, over 84% of students consistently achieved their targets in literacy and 91% in numeracy.
The Listening Program®
The Listening Programme (TLP) is a research-based classical music program that helps children to develop their learning skills. TLP uses high definition sound that has been acoustically modified to train the brain. Frequent listening sessions strengthen neurological pathways in the brain and are proven to develop focus, learning ability, communication and processing ability.