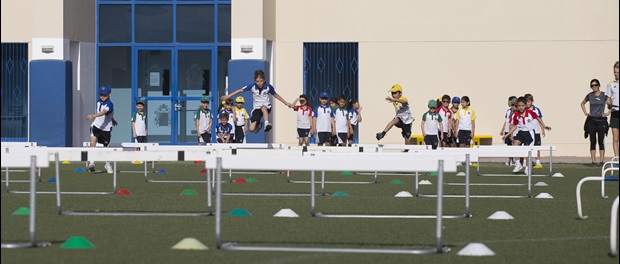 Sports Facilities
Beyond the development of skills, our sporting facilities support students in their goals of leading healthy and active lifestyles.
GEMS Jumeirah Primary focuses on providing a well-balanced, holistic education, allowing students to explore their talents, develop their skills and enhance their abilities, whilst enjoying an active, healthy lifestyle; sport and physical education plays a central role in our curriculum.
Each and every one of the students can enjoy physical education and extra-curricular sports activities, regardless of their level of skill or experience. For this reason all activities are held within a nurturing, encouraging and inclusive environment.
Our state-of-the-art athletic facilities include:
Multi-purpose sports hall
Large, temperature-controlled gymnasium
Professional gymnastics equipment
Multi-purpose outdoor area
Partly shaded, 25-metre swimming pool
Infant learning pool
All weather, synthetic turf pitch
FS2 free-flow areas, both indoor and outdoor
FS1 sand area