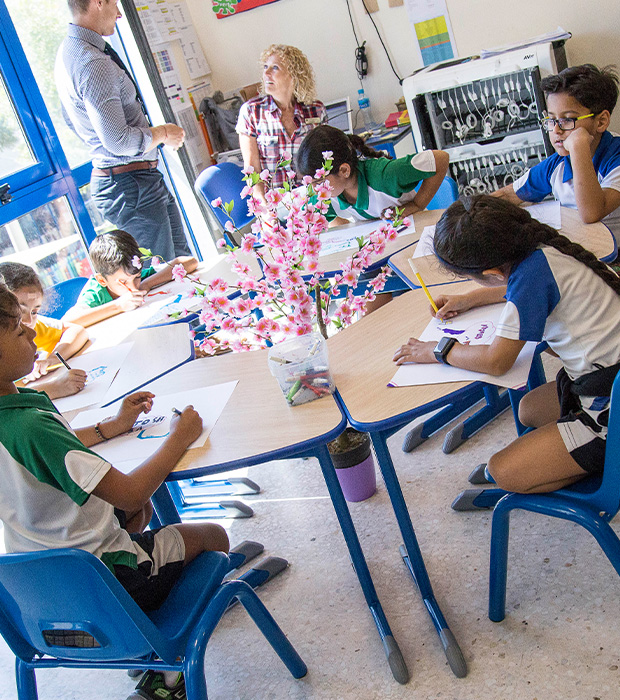 Curriculum Overview
Curriculum Information at GEMS Jumeirah Primary School
At JPS, we follow the National Curriculum in England. Our curriculum design ensures that all relevant objectives are met each school year through a bespoke curriculum, employing the best teaching practices from around the world.
For Mathematics, we incorporate the 'Shanghai' methodologies, which promote depth and mastery of mathematical concepts. For English mastery, we teach reading and writing through text type structures and features across the whole school to provide children with a clear structure and foundation through which they develop their core literacy and language skills. Phonics are taught through an engaging, bespoke program throughout the Foundation Stage and Key Stage 1, progressing to spelling strategies and skills as they move through Key Stage Two.
In all subjects, teachers provide opportunities for children to explore concepts at greater depth. Teachers relish the challenge of making learning exciting, stimulating and challenging for the children. For Conceptual Learning, we have 'Sparkly Starts', for a 'wow' moment to spark interest and engage the children in the two concepts they will be learning about.
Throughout the curriculum, we seek to provide those special days that provide memorable learning moments, such as our recent 'Dragon's Den' project in Year 5, where the children created their own business plans, projected finances and advertising ideas for a new business and presented their bid for investments to a panel.
Across the entire curriculum, children are actively involved in selecting their level of challenge, helping them to take ownership of their learning. New concepts begin with teachers finding out the individual starting points for the children in their care through a variety of different assessment methods. Then, through carefully planned questioning, learning experiences and teaching strategies, progress is measured. A variety of assessment methods are used, including children selecting how they would like to present their understanding of concepts, questioning, tests, presentations and many more. This not only enables the children to be aware of what they need to do in order to be successful learners but it also helps teachers to build an accurate portfolio of the progress each child is making in their class.