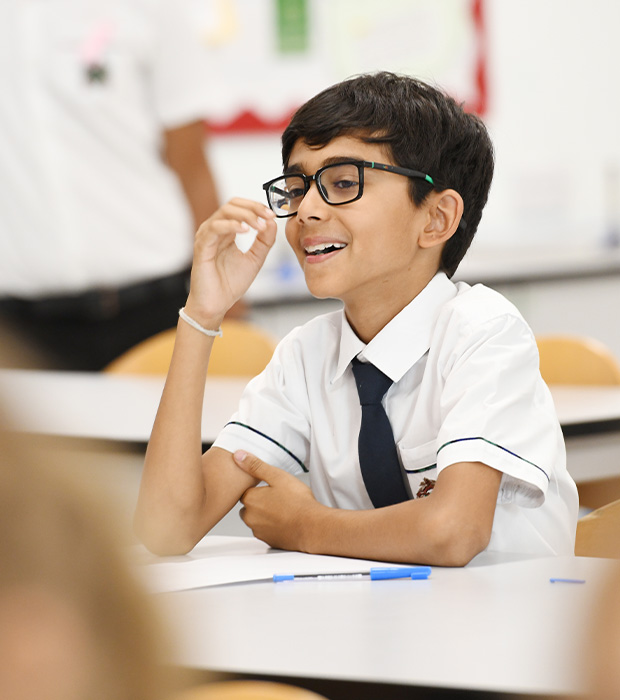 Mathematics
At GEMS Jumeirah Primary School, we passionately believe that a secure understanding of the fundamentals of mathematics is essential for future success. A high quality mathematics education provides a foundation for understanding the world. We aim to develop in children the ability to notice patterns and make connections in every aspect of life, applying what they have been taught to explain, justify and give reasons for these observations at greater depth.
Mathematics at JPS has been 'Outstanding' since 2010, with exceptional outcomes as a result. The bespoke mathematics curriculum we have created here at JPS draws upon the core principles associated with highly effective methods of delivering mathematics education from the world's best pedagogical approaches. This has then been specifically tailored to meet the needs of all of our children to ensure that all pupils become masters of mathematics. This is further underpinned through the use of White Rose Maths Hub to ensure the UK curriculum coverage is broad and balanced.
Through careful and thorough planning, Mathematics at GEMS Jumeirah Primary school is taught in mixed attainment groups. By doing so, the school aims to provide more personalised opportunities for all children to achieve their potential. Each lesson is planned using a progressive system of Bloom's taxonomy, allowing each lesson to develop in skills, as well as knowledge, whilst providing opportunities for all children to progress from their individual starting points.
As a school, we provide pupils with the opportunity to develop and embed their mathematical fluency, reasoning and problem solving skills in every lesson, in addition to practising transferable skills delivered through our High Performance Learning (HPL) teaching approach. This is further facilitated through effective questioning, pupil collaboration, use of practical resources and manipulatives, in addition to outdoor learning experiences, which seek to engage and inspire pupils in mathematics whilst providing support and challenge to all pupils at all levels of instruction, therefore leading to a lifelong love of the subject.