In the Moment Planning

What is In the Moment Planning?
At JPS, we believe that every child deserves an education that is individualised, tailored to their needs and one that will spark curiosity while developing a love of life-long learning. In the Foundation Stage, we deliver the majority of our curriculum through the In the Moment Planning approach, which involves teachers observing and interacting with children as they pursue their own interests, before assessing and moving the learning on in that moment by either supporting or providing an additional level of challenge.
---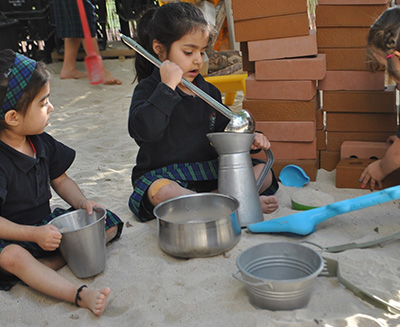 The Role of the Teacher
Foundation Stage teachers develop the learning environments with open-ended resources, allowing children to explore them in a variety of ways. From the beginning, teachers guide the children in how to explore the environment to see what is available, to select the resources they would like, to use them appropriately and to tidy the area when they have finished. To ensure that all children feel safe and happy within their environment, teachers ensure that clear and consistent expectations are provided. Planning is completed retrospectively from what learning has taken place on that day. Teachers then skillfully use this knowledge to prepare for the next day's learning, noting down any areas of interest, challenges that were faced or gaps in learning that need to be addressed.
Teaching includes a range of strategies such as communicating with children and providing valuable vocabulary; demonstrating how to do something new or giving opportunities for children to practise a skill; providing a wide variety of engaging resources to facilitate idea-exploration; high-level questioning and providing challenges when learners are secure in their knowledge; explaining reasons and providing narratives for what a child or group of children are doing and encouraging a child to persevere or take risks. Underpinning all of our teaching and learning is the belief that all children can succeed within a safe and nurturing environment.
---

The Role of the Learner
The In the Moment Planning approach allows children to learn through their own interests and curiosities. If a child is wondering how something works, why something doesn't work or wants to find out about something new, the teaching staff are there to support the child through the process of finding answers. The child has access to a wide range of resources, information technology and literature to help them, all of which are facilitated by the teacher. Learners are encouraged to complete learning tasks but are not directed. They learn through a variety of ways and due to the child choosing subject matter that is of interest, levels of engagement are consistently high. When a child is able to follow an area of interest, they are naturally more engaged, will challenge themselves further and will pursue their interest for a length of time that suits the learning intention.
---

Assessment within the In the Moment Planning Approach
Within this approach, assessment is instant. Teachers and teaching staff are highly-skilled and know the exact moment to interact with an individual or group of children. Children think, question, have moments of curiosity and interests 'in the moment' themselves and do not wish to wait for their idea to be explored. Meaningful learning happens at the time of the spark or question of interest. Our teaching staff, through careful observations, know how to interact so that real-time learning can take place. The teaching staff are always ready to respond using a wide variety of appropriate strategies at the right moment to support children's wellbeing and learning.