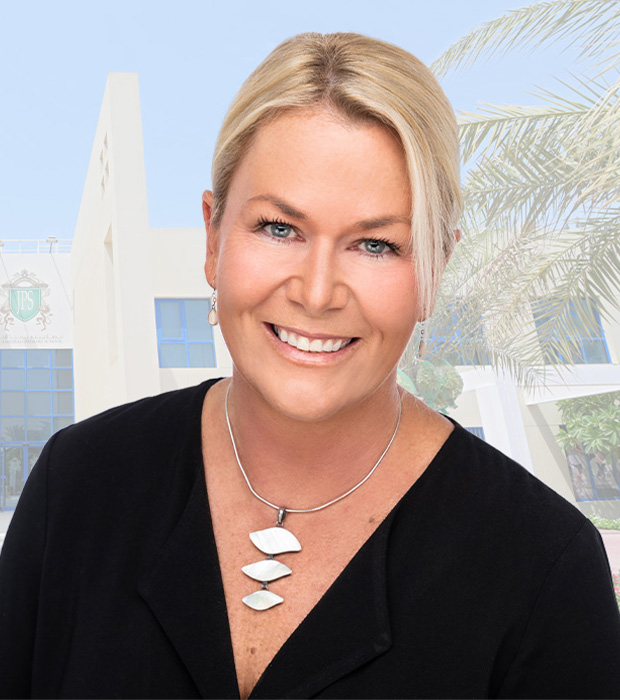 Meet Our Principal
Rachel Higgins
Dear Parents,
Our school is a very special place to be. It is located in a vibrant part of the neighbourhood of Jumeirah and very much a 'landmark' in the local area. The families that make up JPS come from all over the world and, no doubt, you will meet a fellow countryman among our families. We celebrate this great richness of different cultures and ethnic backgrounds and are very proud that in this multi-cultural setting we are able to offer a friendly, stable and caring community for all of our children. We work to provide our children with the best possible education in the fullest sense of the word; academically, culturally and emotionally.
During these formative years, we aim to work together to create a nurturing environment that enables our children to discover their potential and possibilities. We want them to become fulfilled and rounded adults who will make a positive contribution to the world in which they are growing up. At JPS, we allow our children the freedom to work in a variety of contexts and settings when meeting new challenges, allowing them the chance to discover and create. Gifts and talents are celebrated and fully explored.
Our academic and extra-curriculum achievements are well known and we are very proud of our broad and balanced curriculum based on the English National Curriculum. There is a comprehensive sport, cultural and performing arts programme outside the school day, in addition to residential trips and participation in the many local events that Dubai has to offer. Whilst we are immensely proud of the success of the students from JPS academically, on the sports field and in the arts, we value all our children and encourage them to celebrate each other's achievements in the classroom and playground.
As a GEMS school, we have the great advantage of having the support of the GEMS Education group. We also have very strong links with Jumeirah College, our local GEMS secondary school as well as other secondary schools within the GEMS family. Almost all of our children are offered places at JC, giving parents the added comfort of knowing that the 'Outstanding' education the children receive will continue throughout in their secondary education.
We welcome you and look forward to working with your family to prepare our children for the ever-changing global world.
Yours sincerely,

Rachel Higgins
Principal/CEO