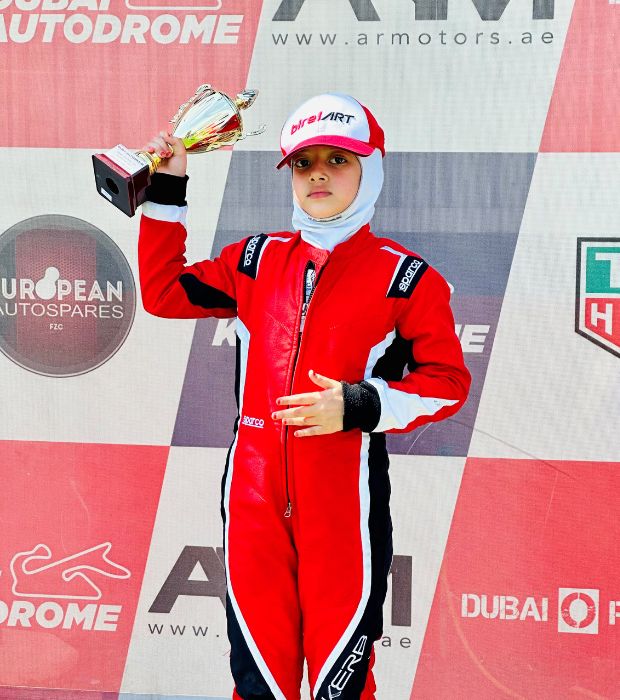 Atiqa Mir secures Podium at DAMC Karting Championship
3rd Place, DAMC Karting Championship in Motor City, Dubai, UAE
UAE's top female Karting sensation Miss Atiqa Asif Mir finished in 3rd place in the fiercely competitive international field of drivers in DAMC Karting Championship Round 4 held at Dubai Kartdrome in Motor City, Dubai UAE. Competing in the MicroMax Category (age group 8 to 11 years old) with speeds reaching upwards of 92 kmph in the blazing heat, Atiqa one of the youngest in this class of karting was in top form securing 1st place in the official practice. Thereafter after 2 heats and the Finals, she ended up in 3rd place and her first podium in this championship. Running briefly in 2nd place Atiqa was a bit disappointed not to win the race as she had the pace but unfortunately the race was red flagged 2 laps from the end, due to an accident and Atiqa couldn't attempt her famous last lap passes. Atiqa finished just 2 tenths of a second behind the leader.
Speaking after the race to the media, Atiqa said "Im grateful for this opportunity to drive today in this prestigious championship. I had a strong weekend in terms of pace and everything was running well but the red flag meant the race was cut short by 2 laps and I ended up 3rd. I was confident of a victory but it wasn't meant to be.I will try again in next month's Round 5 on the same track. I had a great setup and Kart from my Team Birel ART Italy headed by legendary Mark Rose, assisted byKingsley. I want to thank all my sponsors and supporters for making this happen."
8 year racing prodigy Miss Atiqa Asif Mir has taken the racing and karting world by storm. In her first year of racing starting at the tender age of 6 yrs in year 2021 Atiqa has stunned the racing fraternity in UAE by her speed, maturity and dedication. Taking part in 2 Karting Championships in the Bambino Category (aged 5 to 8 yrs) in the 2021-22 season, Atiqa didn't take long to become a race winner. Atiqa in her rookie year beat established drivers with years of experience. In a male dominated sport Atiqa has broken the taboo and wants to excel at a world stage. A role model for upcoming girls wanting to take up motorsport.
On turning 8 years of age in November of 2022, Atiqa was finally eligible to drive in the Micro Max and Mini x30 categories and took part in UAE National IAME and ROTAX Championships. Although she started mid-way in the championships, she drove incredibly well as being the youngest and most inexperienced drivers on the grid. Qualifying as high as 4th in Sharjah in a field of 20 karts and several Top 5 finishes followed.
Atiqa has been chosen to drive for the World Championship winning team BIREL ART ITALY. Atiqa is being trained and moulded into a professional racing driver with world class team of trainers with top technical support with the aim to be the first ever Female Driver in modern Formula 1.
Some of Atiqa's accolades:
Youngest and the only Female UAE Licenced driver in the UAE IAME x30 and Rotax Cship 2022-23 in Mini
2 runner up finishes in DAMC and MIDDLE EAST CUP 2023
First Indian Female Driver to drive professionally at the age of 6 yrs old in an International Karting Championship
First Indian Female Driver to win in an FIA International Karting Championship at the age of 6 yr
First Indian Female driver to break a Lap Record at Dubai
First Indian Female driver to finish in 2nd place overall at a Karting Championship internationally.
Atiqa is following in the footsteps of her father and former Racing driver Asif Nazir Mir who was India's first National Karting Champion in year 2000 and went on the race in Formula Asia with 6 wins, 8 Pole Positions, and drove in Barber Dodge Pro Series in USA.