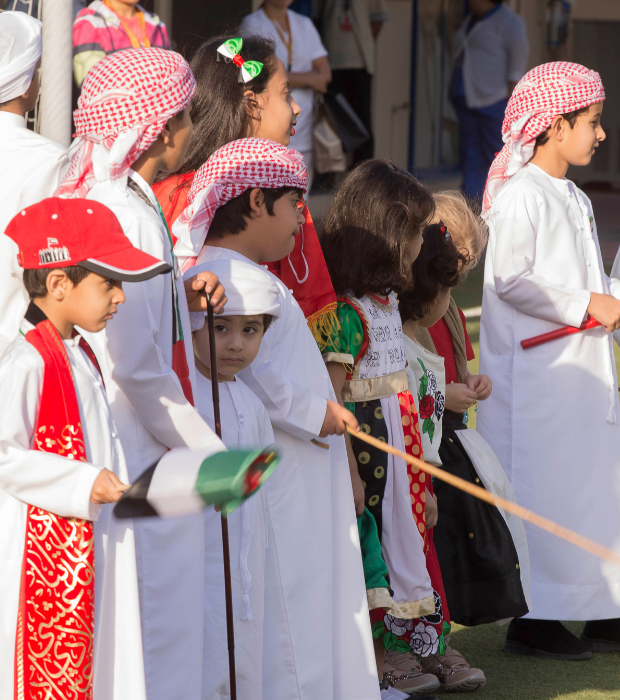 JPS Emirati Ambassadors
JPS Emirati Ambassadors
ESTABLISHING:
The Emirati Ambassadors Club was established on Sunday 3 November 2019 in the presence of Sheikha Fatima Bint Hasher Al Maktoum. During the ceremony, Her Highness planted the Tree of Tolerance and raised the flag of the United Arab Emirates.
WHO WE ARE:
Emirati Ambassadors is a club to spread UAE culture and take part in UAE and Islamic occasions such as Flag Day, National Day, Hag Ellilah, Prophet Mohammed's Birthday, Ramadan celebrations and much more.
OUR VISION:
As His Highness Sheikh Mohammad Bin Zayed Al Nahyan said, 'The UAE is a place of tolerance, co-existence and openness to other cultures. Our club is for all nationalities at JPS. Any student can volunteer to join us in spreading the spirit of tolerance and happiness.
OUR GOAL:
To keep the JPS community updated with UAE events, including those announced by HH Sheikh Mohammed Bin Rashid Al Maktoum.
OUR JOBS:
We participate in volunteer activity works such as fundraising for charity, for example collection of blankets for refugees, collection of used books, selling National Day supplies, etc.
The Emirati Ambassador Head Boy and Head Girl can attend Student School Council meetings, welcome VIP guests to JPS and all ambassadors assist in school events and spread Eid happiness.