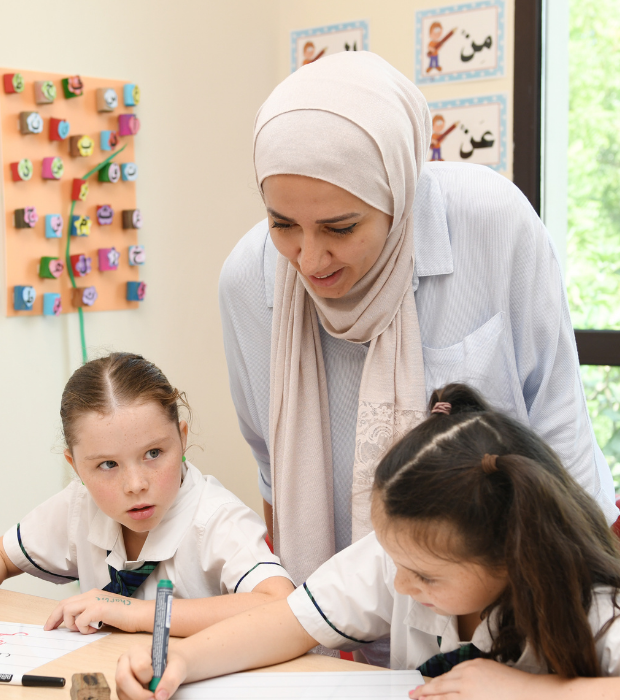 Arabic
Arabic language at GEMS Jumeirah Primary School
Our vision
Teaching and learning the Arabic language holds an integral place at GEMS Jumeirah Primary School. We aim to enable each student to develop a good understanding of the language, eventually being able to speak and write it fluently.
Foundation Stage
All FS1 children have one half an hour lesson per week as an introduction to the Arabic language.
Children in FS2 have two half an hour lessons of Arabic weekly.
During these lessons, children are exposed to the sounds and letters in Arabic through song and rhyme and other fun activities, all of which are aimed at developing early language skills in Arabic. Naturally, children really enjoy learning and singing songs and have fun doing rhythmic activities while reciting rhymes.
Key Stage 1 & 2
For Arabic Education, we teach Arabic for Arabic Speakers (Arabic A) and Arabic for Non-Arabic Speakers (Arabic B). In Year 1 to Year 3, children studying Arabic A have six 40 minute lessons weekly and children studying Arabic B have four 40 minute lessons weekly. In Year 4 to Year 6, children studying Arabic A have five 40 minute lessons weekly and children studying Arabic B have four 40 minute lessons weekly.

At GEMS Jumeirah Primary School, there are four dedicated Arabic teaching rooms for the Arabic A students to learn in and an additional room for enrichment. Arabic B students are taught in their classroom. During the year, the children celebrate many different occasions, for example National Day and Arabic assemblies, which are integrated into the Arabic teaching.
To enhance the children's ability to understand, we utilise different teaching methods such as playing Arabic games, drama, art and crafts and projects for our students to complete.
Guided reading for Arabic speakers
GEMS Jumeirah Primary School has a dedicated guided reading program for Arabic Native Speakers.
Guided reading has significant beneficial effects to help student's develop their reading skills. It is one of the most effective tools, not only to improve a student's fundamental reading skill, but also to help the student develop higher level comprehension skills and writing skills.
Our resources
GEMS Jumeirah Primary School follows the National Curriculum set by the Knowledge and Human Development Authority (KHDA) for KS1 and KS2 for Arabic A. A new Arabic B curriculum has been developed based on the the instructional level of the child. To assist learning, Arabic stories are used to teach children the language using the Internet, iPads and smart boards.
"I love being in JPS as all teachers treat me as part of their family and they make the learning fun. What I enjoy the most is Math and I love learning Arabic, as it is my mother tongue and my favorite time is when we read Arabic fiction, especially fantasy." - Lina Soudani