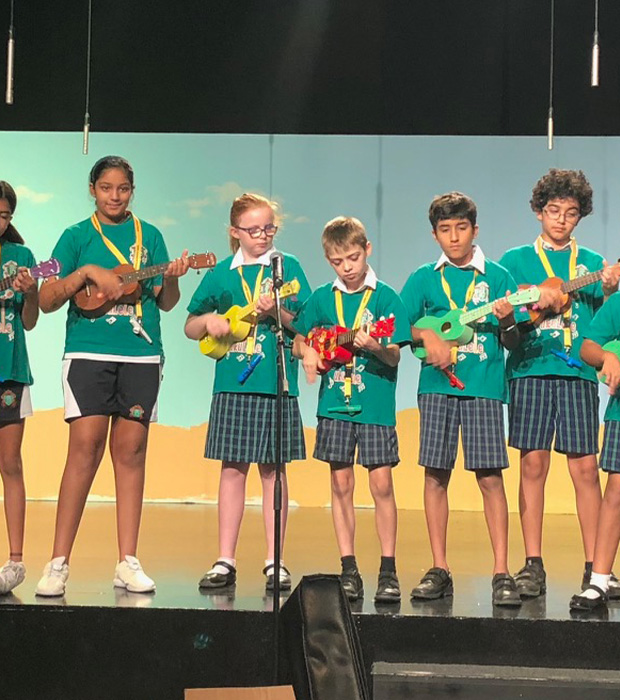 Music
The Music department at JPS is a busy and creative place. We seek to offer a wide range of quality music making experiences through both our curriculum and our extra-curricular activities.
All of the children at JPS are taught Music by a specialist teacher in one of two dedicated music rooms. We follow the guidelines of the UK National Curriculum but enrich our student experience with deeper mastery of musical concepts. Teaching focuses on the five key concepts of Listening, Describing, Composing, Transcribing and Performing. Singing is at the heart of our curriculum but we also have a wide range of tuned classroom instruments suited to every age group, including brand new class sets of wooden xylophones and Boomwhackers as well as a substantial range of untuned percussion.
Music is central to the life of the school. Children are encouraged to perform right from the start of their school days in a range of music assemblies and Thursday 'Showtime!' performances. We offer a wide range of musical and performing arts clubs including Chamber Choir, JPS Singers, Festive Choir, Musical Theatre, String group, Woodwind group, Band, Recorders and Ukulele. These are celebrated in a termly concert which regularly features over 200 children.
Children are offered instrumental lessons on a range of instruments and voice through the GEMS Music Hub. High quality visiting instrumental teachers come into school on a weekly basis to deliver individual and paired lessons.
We have a partnership with ArtsED, the leading UK based performing arts school. ArtsEd regularly send West End professionals to work with our children to develop their skills across the Performing Arts. Year 6 children all have the opportunity to take part in our end of year production. These fantastic productions have included, in recent years, The Wizard of Oz, Aladdin and The Jungle Book.
As part of the wider GEMS and Dubai community we regularly perform outside of school. Recent performances include the Festive Market at Raffles Hotel, the Tree Lighting at the Kempinski and the Stollen Event at the Mall of the Emirates. Children from The lower school were invited to perform at the Dubai Opera in performances of Turandot with the Shanghai Opera Company. We have performed joint concerts with Jumeirah College and Wellington Primary School as well as taking part in the 'Small Schools Big Sing.' Children from across the school take part in the annual GEMS Apprentice and Aspiring Young Musician of the Year Competitions and the finals regularly feature many JPS children. The GEMS Apprentice Young Musician of the year in 2019 and 2020 both came from JPS. Our Chamber Choir take part in the annual Middle East 'ChoirFest' competition and in 2019 were named 'ChoirFest Middle East Primary School Choir of the Year'. We are looking forward to taking part in an exciting musical world premiere at EXPO 2020.
View Some of Our Productions